Home » World War Heroes APK Download 1.13.1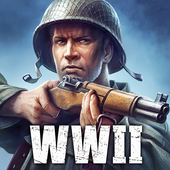 World War Heroes APK Download 1.13.1
The Description Of World War Heroes APK Download 1.13.1
WORLD WAR HEROES
A multiplayer FPS in the World War 2 settings!
This game will take you to World War II, where you'll able to use military vehicles to conduct battles.
The game features 7 game modes:
✯
Hardcore Mode
Mode increase the damage and makes the game more realistic like in real war games;
✯
Deathmatch
Free fight for all. You fight for yourself. Player with the highest score wins the round;
✯
Team Deathmatch
Two teams fight for domination. The team with the highest score at the end of the round wins.
✯
Bomb Mode
One team should bring and plant a bomb at the indicated point, the other team must prevent it!
✯
Team Squad
Two teams fight each other with no respawns. The team which has at least one member wins.
✯
Team battle on panzers
Two teams battle against each other. The team that has the most points at the end of the round wins.
✯
Custom Modes
Create a game with your own rules! Tell your friends game number in the statistics window when you create a room and play together!
Features:
✯ 7 legendary World War II battles!
✯ 4 types of battle vehicles from different countries: USA, Russia, Japan, and Germany!
✯ 5 game modes and a custom mode with your own rules!
✯ 57 unique weapon types: pistols, assault rifles, machine guns, shotguns and many more!
*Reminder: Join tournaments to win prize, raise your clan!
More features:
✯✯✯
Login to Get Daily Free Gifts
✯✯✯
Login to Get Daily Free Gifts, Login to get Free Daily Quests!
Login to get daily free items. Don't also miss the bonus EXP and Credits time! 
✯✯✯
50+ Weapons, Customize yourself
✯✯✯
50 types of weapons: guns, pistols, tommy-guns, subguns, grenades, rockets and body armors!
Customize your weapon and get an unique test piece – change the color and get all options, from barrels and stocks to scopes.
✯✯✯
Upgrade gear system
✯✯✯
Upgrade your gear and become stronger!
Regular updates and new elements are waiting for you.
GOOD LUCK SOLDIER!
========================
https://www.facebook.com/groups/1261472480647068/
https://www.youtube.com/channel/UChMfgo6g8ri0FaAR-SpYpXw
World War Heroes APK Download 1.13.1 1.13.1 Update
Changelog for 2019-08-18 10:21:49
1.13.1
World War Heroes APK Download 1.13.1 Additional Information
Latest Version:

1.13.1

Publish Date:

2019-08-07

Requirement:

Android 4.1+
World War Heroes APK Download 1.13.1 Versions More
Post a comment below
There are no comments yet.
Authentication required
You must log in to post a comment.
Log in